10
07
2008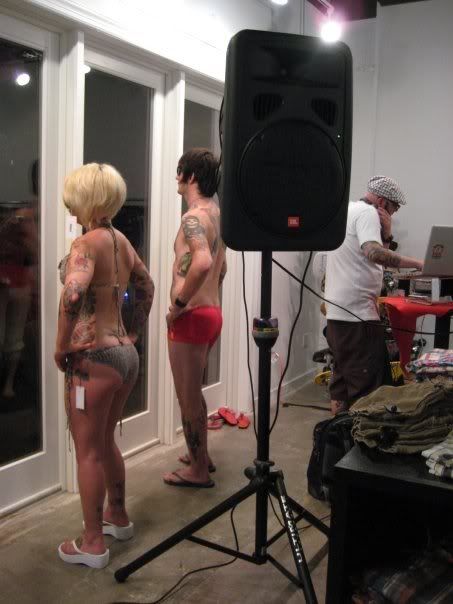 Allayna and DJ the live mannequins, plus DJ Prestige dropping beats at the 4th of July Party.
Viva La Style Rocket! La rebelión de la norma!
That's right Style Rocket Friends and Family, it's a rebellion from the norm here in Asbury Park.
We're hoping that your 4th of July was a success, and you made it through the weekend without an M-80 going off in your hand or a bottle rocket in your eye. There are exciting times here at the Rocket. We're proud to announce the opening of our flagship Style Rocket store on the newly renovated Asbury Park, NJ boardwalk. This 2400 sq. ft. space will make the hottest Men's and Women's designers and clothing lines available to you <i>in person</i>! You've shopped with the best online, now come see the best in person at 1200 Ocean Ave. Space 504 Asbury Park, NJ 07712
We've got such designers as: Ben Sherman, Bertigo, Black Hearts Brigade, Calavena, Canterbury of New Zealand, Cardboard Robot, Christian Audigier, Drifter, Ed Hardy, Elvis Jesus, English Laundry, Howe, Kill City, Lacoste, LA Air, merc of London, Modern Amusement, Monarchy, Morphine Generation, Nice Collective, Projek Raw, Rebel Spirit, Retro Sport, Robert Graham, RZST, Salvage, Scotch & Soda, SMET, Suicide King, Takel, Tank Farm, Topless California, Trunk LTD, Washed Up Hollywood, and more!!
We're not done here, how about Premium Denim from 1921, William Rast, Hudson, AG Jeans, Taverniti and more? Style Rocket is your one stop shop for Men's Skincare as well, we offer you the best of the best to keep your body, skin, and hair looking great. We carry the full line from Jack Black, Menscience, and Anthony for Men. Looking for summer footwear? Our footwear section has footwear from Haviainas, Rainbow, Ed Hardy, Original Penguin and Modern Amusement. Seriously, there is more. Our newest section is the ever growing sunglasses category. We're giving you the biggest choice of designer and name brand sunglasses. Choose your weapon my friend, and choose it well. We've got eyewear from Arnette, Ray Ban, Ed Hardy, Original Penguin, Modern Amusement, Prada, Versace, D&G, Bvlgari, Revo, Vogue, Polo, and more!!!
We want you to live the Style Rocket lifestyle, so if you're into reading, our book section will heat up your boring book shelves. We're carrying books by Shag, Shepard Fairey, COOP, Vice, Andy Warhol, and Mike Giant to name a few. Plus we've got the biggest selection of design, art, tattoo, surfing, and unique coffee table books around. There is truly a revolution going on in Asbury Park, NJ, and the name is Style Rocket.
We will also continue to bring you the best designers and clothing lines on the web as well at www.stylerocket.com.
Don't be boring, life is too short to dress badly!
Viva La Style Rocket! La rebelión de la norma!
Comments :
No Comments »
Categories :
1921 Jeans
,
AG Denim
,
AG Jeans
,
Adriano Goldschmeid
,
Ben Sherman
,
Canterbury of New Zealand
,
Drifter
,
Ed Hardy Bags
,
English Laundry
,
Havaianas
,
Howe Clothing
,
Jeans
,
LA Air Line
,
Men
,
Modern Amusement
,
New Arrivals
,
Premium Denim
,
Rebel Spirit
,
Scotch and Soda
,
Suicide King
,
Summer Clothing
,
Swimwear
,
T-Shirts
,
Tank Farm
,
Taverniti Denim
,
True Love and False Idols
,
Uncategorized
,
Websites
,
black hearts brigade
,
clothing
,
ed hardy
,
fashion
,
flip flops
,
grail
,
men's clothing
,
men's footwear
,
merc
,
monarchy
,
summer shoes
,
topless california
,
women's clothing
,
women's footwear